TV Has Oz . . . YOU Can Have The Wizard
One of the most popular and successful media superstars on TV is Dr. Mehmet Oz.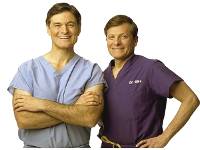 His writing and business partner, Dr. Michael Roizen, MD, is
equally well-known and beloved by millions of fans around the country.
Now YOUR STATION can clear YOU The Owner's Manual Radio Show with Dr. Michael Roizen
100% barter.    Saturday 5pm – 7pm Eastern.    Air live or delayed (one or both hours)

This is a real health talk show – NOT an infomercial. There are no product pitches or supplements for sale.  Instead, this show welcomes celebrity guests as well as some of the top experts in the world of health, wellness and fitness. Dr. Mike, along with his co-hosts Joe Galuski and Dr. Deb Lonzer, provide a passionate radio show that helps your listeners take control of their genes, so that they become world-class experts on their own bodies. And in the second hour each week, Dr. Mike welcomes renowned plastic surgeon, Dr. Arthur Perry, to discuss what's new in cosmetic medicine, as well as other breaking health news.


THE OWNER'S MANUAL
RADIO SHOW
     Dr. Michael Roizen, MD, renowned physician, author, TV personality, and health visionary, is the creator of the famous website RealAge.com – where tens of millions of people have taken the life-changing test that lets them know their "real age" vs. chronological age based on diet and lifestyle conditions.  He and Dr. Oz also own YouBeauty.com, continue to write best-selling books, and appear on the top national TV shows and in popular health and women's magazines.  
Dr. Mike is our medical and stay-well "Wizard" - and we want to share him with YOUR LISTENERS. 

Click For Audio Sample
__________________________________________________________________________     
CALL RadioLinx Broadcast Marketing 480.993.3150 ownersmanualshow@radio-linx.com
You The Owner's Manual Radio Show -  Personalities
Dr. Michael Roizen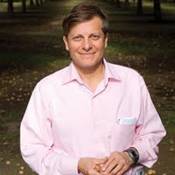 Michael F. Roizen, MD, is a Phi Beta Kappa graduate of Williams College and Alpha Omega Alpha graduate of the University of California, San Francisco, School of Medicine. He is certified by both the American Boards of Internal Medicine and of Anesthesiology. Dr. Roizen is the Cofounder and Chair of the RealAge, Inc., Scientific Advisory Board.

Dr. Roizen is a Past Chair of a Food and Drug Administration advisory committee and a former editor for six medical journals. He has published more than 165 peer-reviewed scientific papers, 100 textbook chapters, 30 editorials, and four medical books (one, a medical best-seller), and received 13 U.S. and many foreign patents. He is one of the cofounders of the website RealAge.com, recently sold to the Hearst Corp., and still chairs its Scientific Advisory Board. One of the drugs he co-invented and developed (licensed to Progenics and Wyeth Corp.) is for for hospice patients.

Dr. Roizen also serves as Chairman of the Wellness Institute at Cleveland Clinic.

His book, YOU: The Owner's Manual (HarperCollins), written with Health Corps founder Dr. Mehmet Oz, became a #1 New York Times bestseller (sold more than 2.7 million hardcover copies worldwide; was the #2 best-selling book in 2005-- displacing Harry Potter for 35 days as #1 on Amazon and BN.com.). It was followed by the New York Times bestseller, YOU: The Smart Patient. Their next book, YOU: On A Diet, the Owner's Manual for Waist Management, debuted at #1 on the New York Times list (11 consecutive weeks at #1 and 17 consecutive weeks in top 3) with 21 printings totaling over 2.4 million copies in the first three weeks (it was the #2 best-selling book published in 2006 in 2006). YOU Staying Young, the Owner's Manual for Extending Your Warranty also debuted at #1 on the New York Times list, and is listed by People magazine as the #3 selling book in the world.

Dr. Roizen has appeared on Oprah 13 times, Today 17 times, 20/20 (3 times), CBN (15 times), CNN, CBS, Good Morning America (24 times), Canada AM (28 times), The Montel Williams Show, Larry King Live, and has four PBS fundraising specials (his fundraising special The RealAge Makeover was one of the top two PBS special fundraisers, now with well over 5,000 showings in 100 TV markets). His most recent two PBS specials: YOU On A Diet, and Longevity Factors, have both received acclaim, and widespread distribution as well. He and Mehmet Oz write a monthly column for Reader's Digest, and a quarterly column for the nursing magazine, Every Woman, and a daily newspaper column syndicated by King syndication. He and Mehmet also record 1 hour a day of radio for Oprah and Friends, on satellite radio and a cable network. He has been featured in Fortune, O, Glamour, Cosmopolitan, Good Housekeeping, Ladies' Home Journal, Biography, People, US, Men's Health, and Prevention.
Joe Galuski


Joe Galuski is the co-host of YOU The Owner's Manual Radio Show and he is the morning star of Central New York's Morning News FM NewsRadio 106.9 & 570 WSYR




Dr. Deb Lonzer


Board-certified pediatrician and the Chair of the Department of Community Pediatrics for the Cleveland Clinic Children's Hospital. She is Medical Director of Access to Care and also an Assistant Professor of Pediatrics at (CWRU) School of Medicine and is active in training medical students and residents.
Dr. Lonzer is a frequent guest on a variety of local news programs and is also frequently quoted by print and web-based health information outlets, including Parents Magazine, Saturday Evening Post, Pregnancy Magazine, ABC, and MSNBC..Dr. Lonzer is a graduate of The Hershey Medical Center of the Pennsylvania State University and completed her training in pediatrics at Cleveland Clinic Children's Hospital.
Her areas of clinical practice interest include preventive healthcare for kids of all ages, comprehensive asthma care, treatment of injuries like minor fractures and lacerations, and comprehensive general pediatric and adolescent healthcare

Dr. Arthur Perry


Arthur Perry, MD graduated from Rutgers College magna cum laude with high distinction in zoology and received his MD degree with distinction in research from the Albany Medical College of Union University in 1981. He then trained in general surgery at Harvard Medical School's Beth Israel Hospital and in burn surgery at the New York Hospital/Cornell Medical Center. Following this, he trained in plastic surgery with Thomas J. Krizek, MD, FACS at the University of Chicago where he was Chief Resident in 1987. He then performed a cosmetic surgery fellowship with Drs. Baker and Gordon in Miami.

Dr. Perry's practice consists of aesthetic, or cosmetic surgery. He has published extensively in this field and has contributed not only scientific papers to journals but also chapters to medical textbooks. He presented original research on liposuction at the national meeting of the American Society of Plastic Surgeons and published an important article in the journal, Plastic and Reconstructive Surgery. Dr. Perry recently wrote the neck liposuction chapter on the internet plastic surgery book, emedicine.

His first book, Are You Considering Cosmetic Surgery was published by Avon Press in 1997. Another book, Straight Talk about Cosmetic Surgery was published in 2007 by Yale University Press and was named the best health book of 2007 in Foreword Magazine's annual competition. His next book, You Being Beautiful was co-written with Drs. Michael Roizen and Mehmet Oz
was a New York Times Bestseller for 10 weeks! In September of 2009, Dr. Perry's Real Life of a Surgeon was published by Kaplan Press/Simon and Schuster.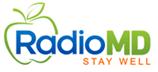 __________________________________________________________________________ 
CALL RadioLinx Broadcast Marketing 480.993.3150 ownersmanualshow@radio-linx.com